Workplace
Secure
Secure SAKURA
Secure SAKURA
Secure SAKURA
The compact, highly secure collection solution for confidential papers.
Secure SAKURA
Select the desired size
Secure SAKURA
• Its innovative aluminum design and easy-to-use low dimensions and extreme mobility mean
it is regularly chosen by customers in search of a discreet and aesthetically pleasing solution.
• The handling handles have been harmoniously integrated into its very compact design. The
high-security locking mechanism guarantees the protection of your confidential documents.
• If you want to integrate these collectors into the complete waste collection modules, the
SAKURA terminals provide you with a wide range of packaging solutions.
Technical informations
| Dimensions | Weight | Material |
| --- | --- | --- |
| L 282 x P 345 x 810 mm (Slot 275 x 35 mm) | 4,8 kg | Light aluminum |
Infinite possibilities
Bins are custom-made to match and beautify your workspace, to make this a true societal and collaborative experience for your staff while promoting your recycling initiative.
Advantages
Efficiency
Eliminate unnecessary tasks and free your resources to boost efficiency, save time and provide a better service quality.
Savings
 By adapting your teams to your actual needs and measuring the efficiency of your decisions, you can save up to 30% on your operational costs.
Motivation
 Optimize the user experience and help your staff work more easily and faster.
Environment
Digitalize your job processes to reinforce your CSR (corporate social responsibility) efforts and reduce your impact on the environment.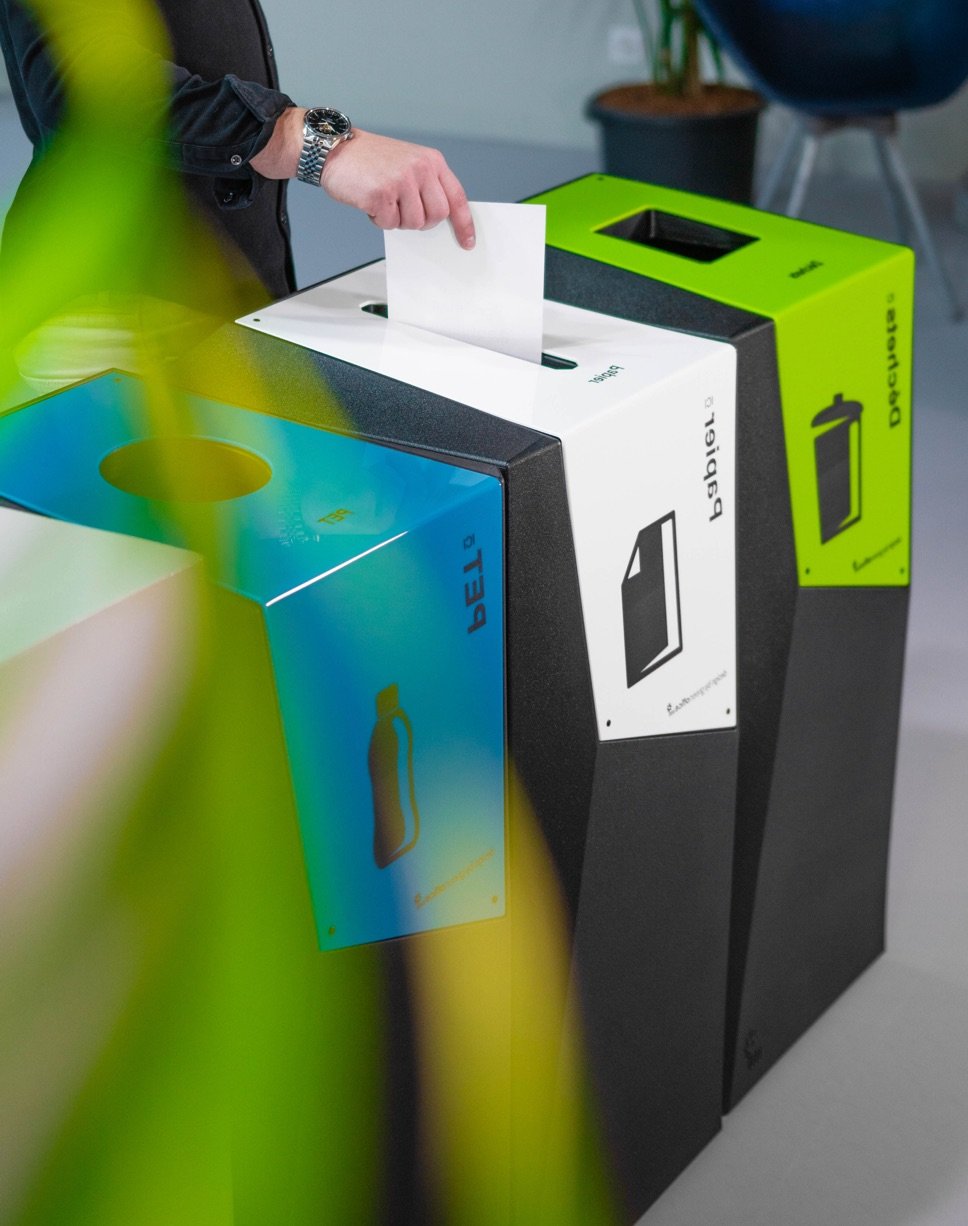 Welcome to the future of waste management
Imagine a smart bin which gives you its filling rate in real time and automatically informs you when you have to empty it.
Manage your waste collection more efficiently with Green Office smart bins for a better organization and immediate operational savings.
Optimize your collect
Use a complete software allowing you to know at any time the location and condition of your bins in order to anticipate the actions you have to implement and to measure the effectiveness of your decisions.
Discover our smart and connected bins