12 January 2023
Biowaste Law: What are your obligations?
Since January 1, 2023, the law on waste management and circular economy (anti-waste law) of February 10, 2020 has been reinforced. Indeed, it now applies to professionals who generate more than 5 tons of bio-waste per year, before being extended to all professionals, without minimum threshold, on January 1, 2024.
The anti-waste law for a circular economy of 10 February 2020 (AGEC law)
Food losses and wastage represent 10 million tons of products per year in France, which represents a commercial value of 16 billion euros. Faced with this scourge, the government has decided to implement an anti-waste law.
This law aims to reduce food waste by half compared to 2015 in the food distribution and collective catering sectors by 2025 and by 50% in the consumption, production, processing and commercial catering sectors by 2030.
Certaines oCertain regulatory obligations have already been implemented to reduce food waste :
Carry out an anti-waste diagnosis and define an action plan in collective catering.
Wholesalers must give their unsold food products to associations.
Prohibition to make unfit for consumption foodstuffs that are still consumable.
Who is concerned by the anti-waste law ?
Before the introduction of the anti-waste law, the sorting of organic waste was already regulated to some extent. In 2012, people who produced or owned large quantities of organic waste had to separate and recycle them. This requirement only applied to companies producing more than 120 tons of organic waste or 1500 liters of used edible oils per year.
Minor changes were made in 2016, affecting professionals who produced more than 10 tons of biowaste and more than 60 liters of oil per year.
Then, with the law of February 10, 2020, sorting will now apply to all professionals producing more than 5 tonnes of biowaste per year and will apply to all professional actors, without minimum thresholds, from January 1, 2024. In addition, it will also apply to households.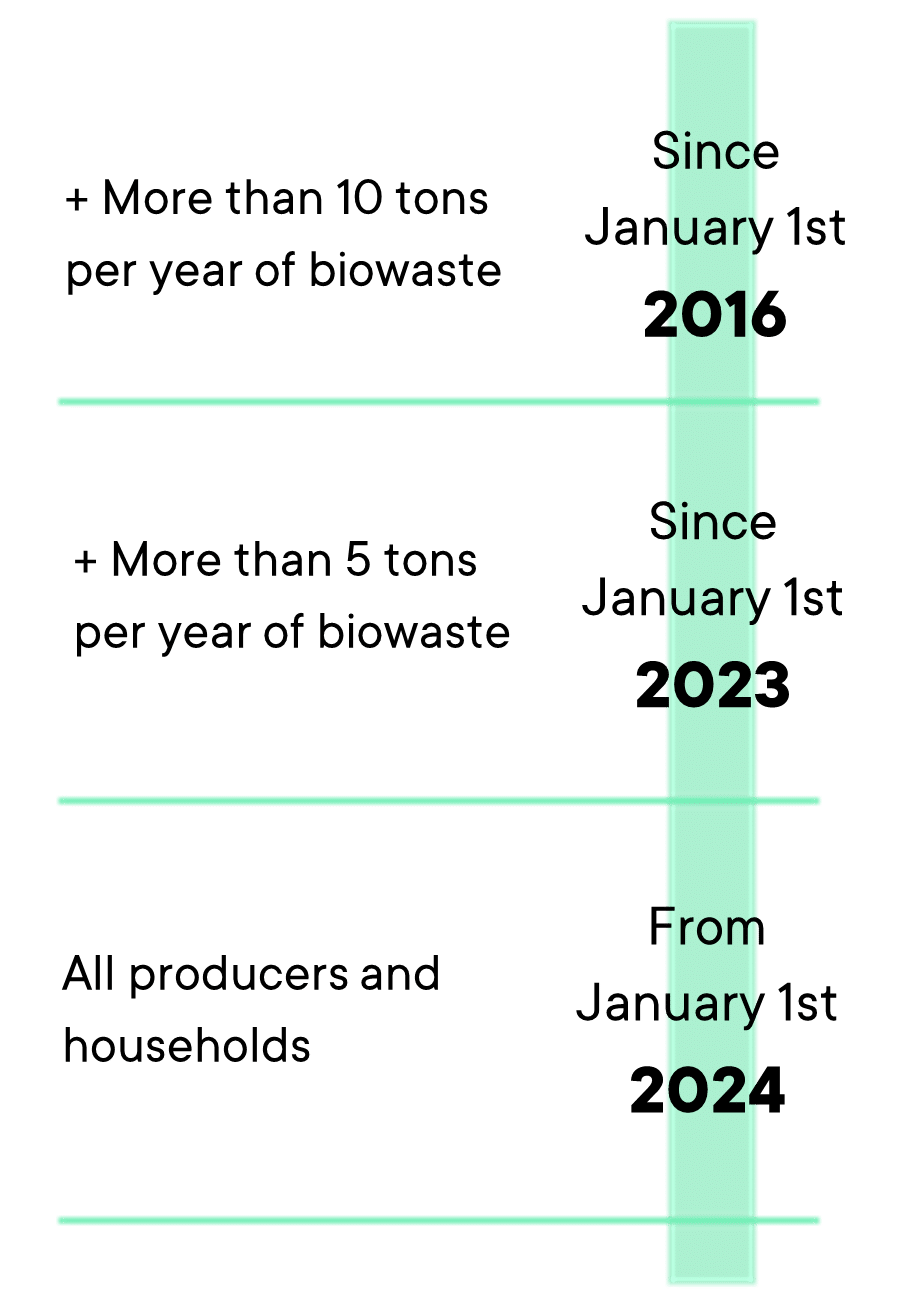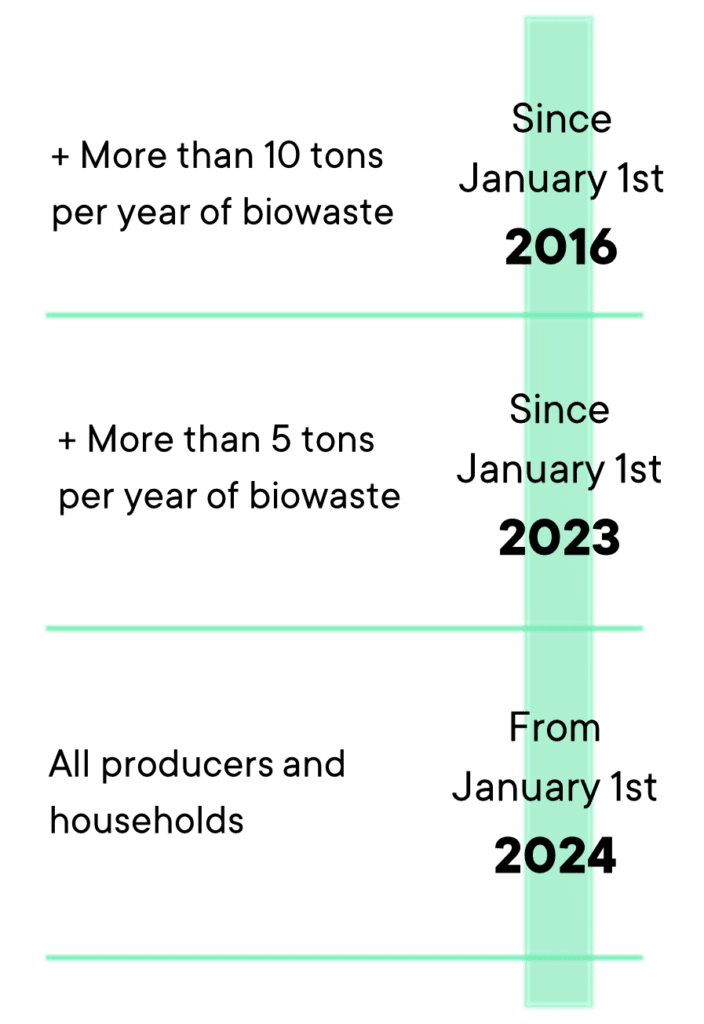 Waste recovery
It is estimated that if all the biowaste contained in household waste were composted, it could fertilize more than 150,000 hectares a year. Half of the French market gardening areas could be converted into organic only with a good use of biowaste. Biodegradable waste can be recovered by two main treatment methods: composting and methanization.
Composting is a process of aerobic transformation of fermentable materials under controlled conditions. It makes it possible to obtain a stable fertilizer rich in humic compounds, organic fertilizer.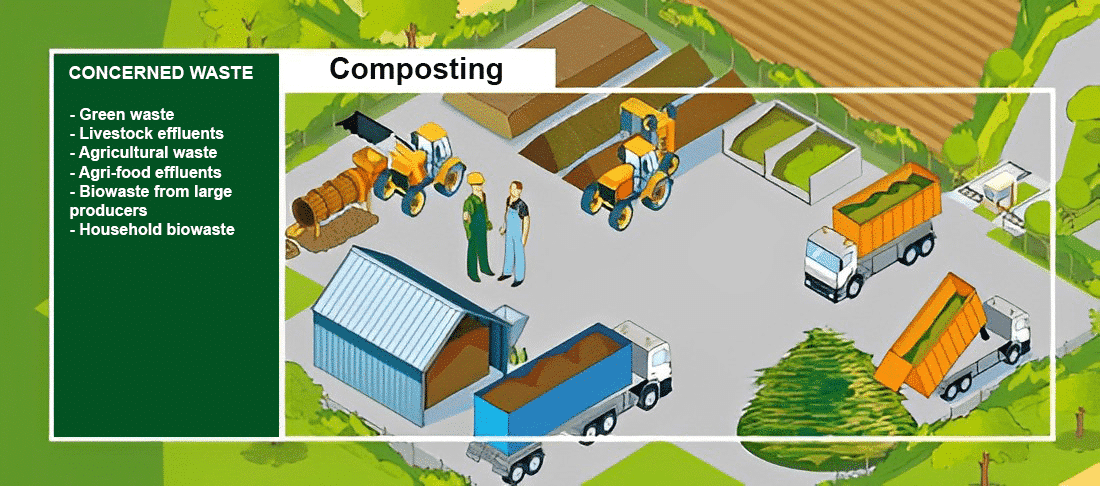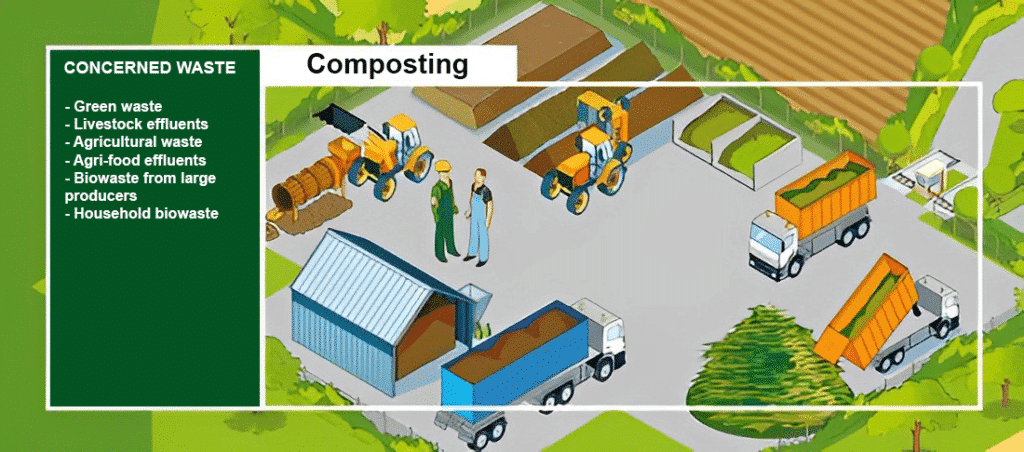 Methanization is a technology based on the degradation by microorganisms of organic matter, under controlled conditions and in the absence of oxygen, thus in anaerobic environment,
This degradation causes:
– A wet product rich in partially stabilized organic matter called digestate.
– Renewable energy that can be used to generate electricity, heat, or fuel.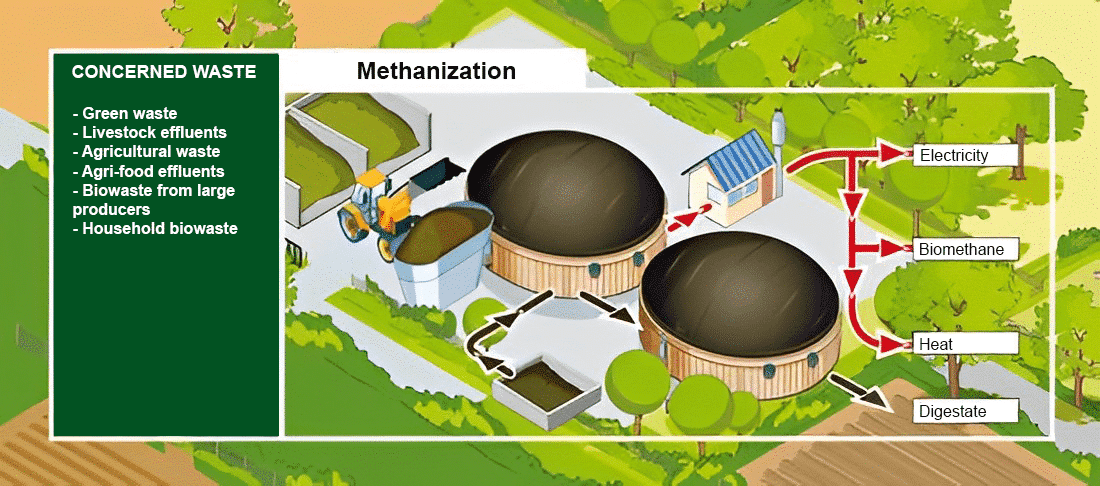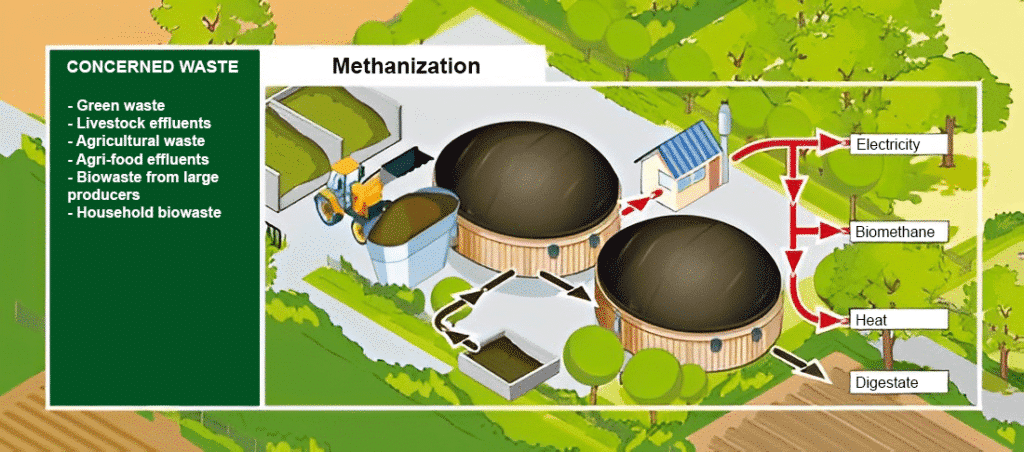 Professionally or personally, transformations can be very different.
For professionals: biowaste can be transformed into an agricultural additive (compost) that can be used by professionals, if they meet certain criteria. They can also be upgraded by methanization, an industrial technology that recovers the biogas (methane) produced from the bio-waste and uses it as an energy source, returning the digestate (residues of methanization) to the soil.
For households: Organic waste can be turned into compost or fertilizer and can also be used for gardening via garden composts or horticultural earthworm bins. The compost from the biowaste can be used in home gardens or on larger areas.
Separate collection of biowaste
To implement the source sorting of household food waste throughout France by 1 January 2024, Each local community must research and identify the most appropriate food waste source sorting solutions and ensure that they are recoverable and not landfilled. Separate community collection of food waste complements local composting.
This collection system consists in asking the inhabitants of a commune to sort their food waste (in a dedicated trash can or in a «organic bucket»). After that, the community then regularly organizes a food waste collection tour, with the dump trucks only picking up the organic waste. This collection can take several forms: individual bins or containers, or collective terminals. The collection truck can possibly consist of two dumpsters: one collecting food waste and the other waste but keeping the separation between these two streams. Another form of private collection that has worked well for some biological waste is green waste: this is the input of waste into the waste collection plant.
For businesses, separate collection of food waste can be carried out by using external providers for collection in approved units. This solution is particularly suitable for large productions. Depending on the local context and the amount of food waste generated, this collection can be carried out by: an outside provider or a local authority.
Collection can be done in two ways:
– Door-to-door (structure equipped with its own individual bin or shared with several other structures).
– Voluntary contribution (terminal located on public space and accessible to all).
Sorting solutions
Sorting solutions are numerous and adapt to the environment:
Installation of sorting bins on office floors. Strategically, this kind of waste is sorted near canteens and refectories or in break rooms.
The installation of a vermicomposting system in the office, near the "cafeteria space" is a solution for recycling organic waste indoors. Contrary to popular belief, earthworms are clean, odourless and exist in different shapes and materials.
Local composting for a neighbourhood, residence or delimited area helps to limit the costs associated with waste management.
This beginning of the year represents a new opportunity for all, to commit and act for the good of the environment. The strengthening of the anti-waste law makes total sense with the current environmental issues accelerating. Thanks to the sorting of biowaste, the volume of our waste bins will be reduced by 30%. Determined to make sorting obvious to everyone, our sorting stations are now equipped with an organic bucket to meet new collection obligations.
The main thing
Since January 1, 2023, the anti-waste law applies to professionals generating more than 5 tons of bio waste per year. In 2024, it will affect all professionals without minimum thresholds but also households. This obligation will reinforce the recovery of waste through methanization or composting, which allows soil fertilization. Strengthening this law will require a specific organization for households and professionals to collect their food waste. Residents will sort their biowaste in a dedicated sorting bin or bio-bucket, which will be picked up by community dump trucks. Companies will be able to call on an outside provider. Many sorting solutions will facilitate this change: voluntary supply with sorting bins in offices, earthworm composting and local composting.